Instructor Led Classroom and
Virtual Classroom Training Courses
API-U, Training Courses
Training Venue: Virtual or Live Classroom in Kingwood TX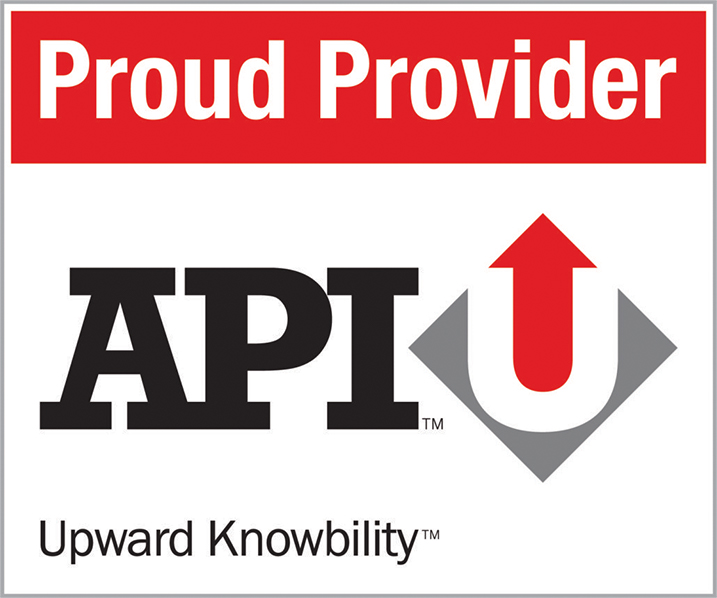 API Audit Fundamentals and Lead Auditor, Training Course
API Audit Fundamentals (1.6 CEU Credits) This two-day virtual training course covers auditing fundamentals as well as the additional auditing processes that are unique to the API program. Upon successful completion of this course, participants will learn how to apply the principles, procedures, and techniques of planning and conducting effective...
API Q1 Certification & API 6D Monogram License, Virtual Workshop
This two-day workshop provides an overview of the requirements, timeline, and the potential costs associated with obtaining an API Q1 certification and API 6D monogram license. Day 1 focuses on API Q1 quality management system requirements. Discussion items will include Management responsibilities, risk management, customer focus, design and development, supply...
API Q1, 9th Ed., Fundamentals & Practitioner - Virtual Training Course
API Q1 course participants will receive insightful information about the importance of this standard and its value in the Oil & Natural Gas Industry. This course is designed to progressively provide introductory to advanced knowledge about API Q1 application and requirements during days 1 and 2, and then to focus...
Exemplar Global QMS/Auditor Courses
Training Venue: Virtual or Live Classroom in Kingwood TX

ISO 29001:2020, Auditor & Lead Auditor Certification Course
This 3 ½ days virtual training course is conducted live. A combination of case studies, individual hands-on activities, and role-plays are used to present as well as practice the course materials.  A 2-hour final exam will be given to validate the achievement of Auditor competencies essential for conducting effective 1st,...
ISO 29001:2020 Fundamentals & Practitioner Training, 2.4 CEUs
The purpose of this three-day virtual course is to provide the Practitioner with the knowledge and interpretation of ISO 29001:2020 requirements needed to obtain 3rd party QMS certification. Attendees receive an overview of the interrelationships, commonalities, and differences between API Q1, 9th ed., API Q2, 1st ed., ISO 9001:2015, and...
Intro to Risk Management & Root Cause Analysis
This is a 2-day workshop will be held via a Zoom Video virtual classroom.  After successful completion of training, participants will receive a Graduate certification issued by Exemplar Global.  This workshop includes a balanced mix of lectures, open discussions, case studies, and group and individual hands-on exercises. Participants will become...
Exemplar Global Professional Courses
Training Venue: Virtual or Live Classroom in Kingwood TX

Effective Supervisor 1, (1.6 CEUs)
This 2 day virtual workshop provides an overview of essential competencies that must be understood to become an effective supervisor. The ability to successfully lead and develop others is a learned skill. Examples of critical areas to be discussed during this workshop include the importance of managing your time and...
Meeting Management (1.6 CEUs)
This two-day virtual training course is designed to provide participants with the necessary tools needed to initiate and manage a productive meeting. Individual and group exercises are used to allow participants to practice strategies to plan, conduct, and to document meetings. Role plays, and case studies are used to provide...
Effective Management Rep, API Q1, API Q2 & ISO 29001:2020
This two-day virtual training course provides participants with insight into API Q1, API Q2, and ISO 29001:2020 requirements. In addition to understanding QMS requirements, it's equally important for the Management representative to recognize their organization's internal requirements and policies. Case studies, videos, group activities, and individual exercises are used to...